Attrition Mill - 15 inch
The 4X3-15 model shown features a 4" inlet, 3" outlet and a 15" diameter rotor. It can be supplied with a motor ranging in size from 50 to 100 Hp. It processes up to 300 GPM and produces particles as fine as 50 microns.
The modular design of the unit allows for a wide variety of configurations, depending upon the application.
Unit is supplied with a split casing to facilitate easy removal of stator and rotor attrition disks. Attrition segments can be made from a wide variety of alloys to suit individual applications. They are easily removed and replaced.
Attrition zone gap is hydraulically adjusted to yield any particle size desired. The unit can also be adjusted to compensate for wear of the attrition zone teeth. Also, the unit operates in both directions of rotation thereby doubling the life of the teeth in the attrition zone.
The Disk Attrition Mill casing is protected with replaceable internal wear rings. The unit features rugged construction throughout to insure long term performance in tough applications such as waste grinding in environmental applications and drill cuttings grinding in oil exploration.
Optional fine grind ring available for finer grinding of shearable material.
Optional micronizer configuration enables the grinding of material such as rock and sand down to a minimum particle size of approximately 50 microns. This feature has made the 4X3-15 model the preferred choice in processing refinery waste and replacing ball mills.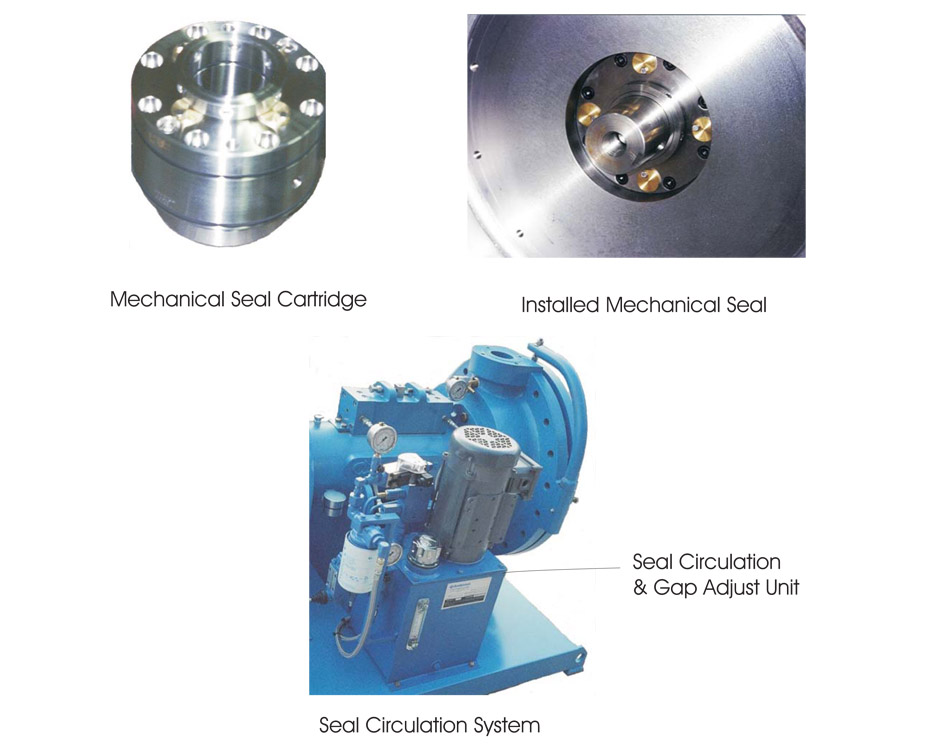 MULTISHEAR DISK ATTRITION MILLS and SUPER BLENDERS utilize double mechanical seals that are housed in a stainless steel seal cartridge that is easily removed and replaced. The seal cartridge also holds the shaft thrust bearing in place as a means of minimizing shaft length and overhang. The resulting configuration is extremely rigid with virtually no shaft deflection or run out that typically plagues other size reduction equipment. In addition, the MULTISHEAR equipment is furnished with a seal circulation system which circulates, filters, pressurizes, and cools the seal barrier fluid to provide ideal conditions for an extended seal life.
Intermeshing Teeth

Intermeshing teeth are used to size nominal 1" solids down to a minimum particle size of approximately 1/16". The teeth are cast and hardened to provide maximum wear life. Also, the rotor can be operated in both directions of rotation, thereby wearing both sides of the teeth before replacement becomes necessary.

Fine Grind Ring

The fine grind ring surrounds the rotor and it significantly reduces the particle size produced. It also provides high energy mixing and homoginizing capability.

Micronizer Plates

The micronizing configuration is used to size nominal 1" friable solids such as stone and sand down to a minimum particle size of approximately 50-100 microns. The micronizing stator and rotor are made from tungsten carbide chips imbedded in a metal matrix to provide superior wear characteristics in severe applications.